pop up description layer


ULTRA-FLAT DIRECTIONAL COUPLERS
3.30 to 18.00 GHz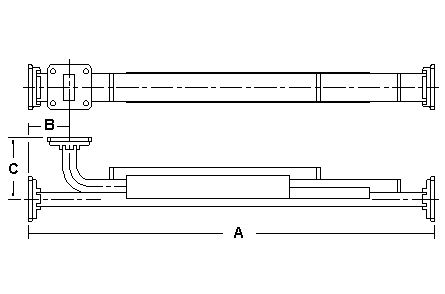 ULTRA-FLAT DIRECTIONAL COUPLERS
This series of ultra-flat broadwall couplers is designed for precision measurements in microwave circuits when the ultimate in flatness of coupled output power is required. A unique design concept of combining tow Tchebycheff coupling arrays is incorporated to achieve this uniform output. The coupling sensitivity is plus or minus 0.2 dB maximum over the full waveguide operating range.
Standard values of couples are offered. Other special coupling values are available on special request. Alternate materials and flanges are available. See flange section. For power ratings of built-in terminations, refer to ratings on Page 33 (-54 series). Finish is instrument gray enamel.
General Specifications:

Standard Coupling value ........ 10, 20 or 30 dB (Others on special order)
Standard Average Coupling .. ± 0.3 dB
Coupling Sensitivity ............... ± 0.2 dB max.
Minimum Directivity 40 dB
Main Line VSWR 1.10 maximum
Secondary Line VSWR 1.20 maximum
Important ordering information:
When ordering, add dB coupling value to model number: i.e., to order a WR-90 size 20 dB coupler, specify 673-20.
Please call if you need any further assistance or information.
| | | | | | |
| --- | --- | --- | --- | --- | --- |
| 55 | | P.O. BOX 718, West Caldwell, NJ (973) 808-9113 Fax (973) 808-1524 | P | N | T |